Proudly serving Lake County since 1999
Rapture Air is here to help you feel cool and comfortable during those hot summer months. We offer several air conditioning services, including: system replacement, preventative maintenance service, air conditioning troubleshooting and repair, heating troubleshooting and repair, as well as thermostat upgrade and replacement.
Rapture Air can help with that too! We want to help you save money and be more efficient with your energy use. If your air conditioning unit is greater than 12 years old, you could cut your cooling cost by 30 to 50+ percent by replacing the unit with an ENERGY STAR qualified model. Rapture Air's well-trained, experienced, and courteous staff will make it easy to choose the right system for the unique needs you home has, all at an affordable price.
At Rapture Air, we are in the business of keeping your home (and/or business) in top quality shape. Our highly trained professional service staff will provide you with services you need at a price you can afford! Rapture Air is proud to be a Rheem Team Top Contractor!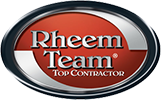 Other products are available!